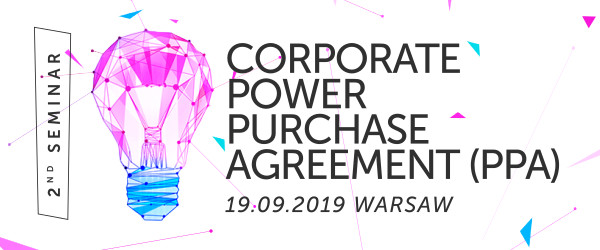 Rafał Hajduk, legal counsel, Partner at Domański Zakrzewski Palinka

Rafał Hajduk is head of the energy advisory team at Domański Zakrzewski Palinka. He handles all types of projects in the energy sector and advises on, e.g. investments in energy infrastructure, particularly power plants, project finance, mergers and acquisitions, joint ventures, and trading in energy, fuels, greenhouse gas emission allowances and related derivatives. He also advises on regulatory and contractual matters. Rafał is official Polish legal counsel to EFET (European Federation of Energy Traders).
Phd Rafał Rzeszotarski, General Manager, Sun Investment Group Polska

Entrepreneur and manager with strong academic background: PhD in law, MA in law and finance. Prior to Sun Investment Group, Rafal worked as a lawyer in companies such as Baker McKenzie and Polpharma, among others, where he gained in-depth regional knowledge of equity capital markets, cross-border transactions, debt capital markets, public and private M&A transactions, project finance and debt restructuring.
Francesca Tedeschi, Principal, Pöyry Management Consulting

Francesca has over ten years of professional experience in the energy industry covering positions across consulting and finance. She is now a Principal with Pöyry Management Consulting in Oxford, UK, and country manager for Poland. In this capacity, she leads Pöyry's advisory services in this market spanning from due diligence of thermal, renewables, and flexibility assets to strategy and commercial advice on electricity trading and wider energy policies. She also oversees Poyry's market modelling and the authoring of Pöyry's flagship market reports for Poland. She has a wealth of experience in end-to-end PPA structuring, contract appraisal, and commercial negotiations with a strong focus on the Polish, UK and other key EU markets. This includes work in the Corporate PPA space advising corporate consumers, generators and their financiers on green procurement and sales strategies. Prior to joining Pöyry, she worked for a private equity firm specialised in clean technologies investments. She has also gathered experience at two major investment banks in New York, and London, and spent two years at the Geneva-based International Trade Center UNCTAD/WTO. She has completed Level 1 and 2 of the Chartered Financial Analyst (CFA) programme. She holds a master level degree in Diplomatic and International Studies with a major in Economics from the University of Trieste (Italy). She is fluent in English, French and Italian.
Krzysztof Müller, Head of Market Poland, Alpiq Energy SE

Responsible for overall activities of polish branch of Alpiq AG the leading Swiss utilitiy. Prior to joining Alpiq had spent almost 20 years in energy business, working for: Polish Energy Partners ( currently Polenergia), RWE( currently Innogy), Ener-G Holding and PGE Renewable Energy, first as an Investment Director and then Member of the Board. In the last year, as a Managing Director in Power Block, had been cooperating with several large energy users in the area of demand response services and capacity market. Currently focused onCPPs, energy storage and decentralized generation but maintaining interest, based on earlier experiences for capacity market and large scale: wind, PV and hydro. A graduate of Akademia Teologii Katolickiej in Warsaw and Université de Montpellier. Master de Management Economique Européen HEC/SGH.
Simon Gerrard, Director Renewables & Cleantech, Schneider Electric Energy & Sustainability Services

He joined Schneider Electric's EMEA Renewables & Cleantech team in January 2019. Simon helps corporate buyers' access renewable energy across Europe from our office in London. He has over fifteen years' experience in the renewable energy sector and has worked for some of the leading renewable energy companies in business development and leadership roles. He is a passionate advocate for renewable energy and has worked with many C&I customers to help them realise their renewable energy ambitions. Prior to joining Schneider Electric, Simon worked for International solar developer Lightsource BP where he led a team that developed projects totalling 150MWp and originated a number of the first unsubsidised corporate PPA's in Europe. He has a law degree from the University of Leeds.
Annika Yule, Cleantech Client Manager, Schneider Electric Energy & Sustainability Services

She helps Schneider Electrics European corporate clients to navigate PPA processes for both physical and virtual contract structures. Annika works with the corporate champion to secure necessary internal approval for entering into these contract structures to achieve the corporates' sustainability goal while simultaneously running competitive processes with project developers to maximize the clients' financial goals.
Mark Augustenborg Ødum, Executive Vice President Markets and Project Finance, Better Energy

Mark is a solar energy finance expert with over ten years of experience in the renewable energy industry and across several clean energy technologies. Global experience has provided Mark with great insight into how renewable project finance and the power markets work. He brings fresh perspectives and a deep understanding of global energy market dynamics and economic influences. Prior to joining Better Energy, Mark served several years as Senior Manager for KPMG Transaction Services in London and Senior Manager M&A and Finance Director at Tieto. He has more than 20 years of international business management experience, with particular expertise in international partnerships, mergers, acquisitions and divestments. Mark holds two graduate degrees, one in Business Administration from Copenhagen Business School and a second in Financial and Management Accounting from the University of Southern Denmark. In addition, he holds a Diploma in Innovation and Entrepreneurship from Monterey International Institute, California.
Grzegorz Wiśniewski, Prezes Zarządu, Instytut Energetyki Odnawialnej

Founder and director of Institute for Renewable Energy (IEO) - a research centre and sustainable energy think-tank in Warsaw. Mr Wisniewski graduated from Warsaw University of Technology (process engineering) and Warsaw University (MBA). He specialises renewable energy technologies (solar, wind, bioenergy/biogas), energy economics, energy systems modelling and forecasting of energy prices. He co-authored Polish National renewable energy strategy (2001), some key renewable energy regulations (energy law- green certificates, support for prosumers, economic part of auctioning system). He was managing director (1997-2005) of the EC Baltic Renewable Energy Centre (Warsaw), chairman (2007/2008) of the ManagEnergy Reflection Group (MERG) - an advisory group of the Directorate General for Energy at the EC (Brussels) and chairman of energy advisory group for the Polish Minister of Environment. In 2016 he was appointed to the National Development Council (advisory body to the President of Poland). For his overall contribution to the promotion of renewable energy technologies he was awarded the statuette of Promoter of Renewable Energy (by Polish "Clean Energy" Journal), distinction New Impulse (by Polish "New Industry Journal) and has got award the Man of Polish Ecology.
Viviana Ciancibello, Senior Business Developer, European Power Derivatives

Viviana is a Business Development expert at European Energy Exchange (EEX). Viviana has over ten years' experience in commercial roles at financial commodity exchanges. She is currently responsible for the integration of renewables in the European Power Derivatives segment at EEX. In particular, Viviana focuses on how PPAs and increasing merchant risk are affecting the hedging needs of EEX members and the wider players in renewable energy industry. Viviana started her career in 2008 at BlueNext, the former environmental commodities trading platform of NYSE Euronext and Caisse des Dépôts, prior to joining EEX in 2011. Viviana holds a B.A.H. from Queen's University in Canada, and an Executive Master in Energy Management from ESCP Europe.
Dina Lašová, Head of Sales and Customer Relations, Power Exchange Central Europe

Dina Lašová has studied the University of Economics and Management. She joined POWER EXCHANGE CENTRAL EUROPE, a.s. (PXE) in 2010 and has been responsible for client relations, sales and business development. She was involved in several key projects such as change of the clearing house, new markets launch and the migration of PXE to EEX. Being part of EEX group since 2017, PXE is a centre of competence for the CSEE region. Within EEX Group she is responsible for coordination of CSEE sales activities. Before PXE she worked in the field of HR and marketing. Except for Czech being the native language, she is fluent in English and Greek and has working knowledge of German.